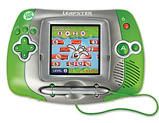 I love this little gadget.
It keeps my 5 year old son busy for hours and hours. He is a very active kids, so I am glad that he has something that makes him sit down. It is a video game, but it is very educational. He learns about patterns, number, letter, and it improves his hand eye coordination. I only wish we discovered it sooner, it would have made our flights even better, and O how I wish he had it while we were in Jordan.
heck I even love playing it, my 2.5yo loves playing with it as well, but it is made for 4+, so he does not know how to play it, but he does try and try..
I love leapfrog! what will they come up with next?